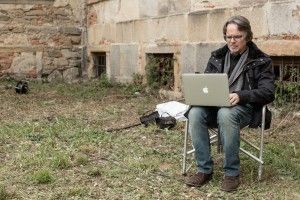 Dear Frank,
I was thinking about writing to you for a week or so, but thought it might be silly. I wanted to ask how filming in Prague is going. Are you still there or have you maybe already finished? Maybe a chance for a picture? You mentioned you would be filming there. And Prague is one of my favourite places in the world and you are one of my favourite persons in the world. So you see, it's so perfect.
Basically, I just wanted to ask how things are going in general and in specific with Transporter. p.s.: I got the chance to watch the commentary of the Fight The Future Blu-Ray for the first time a few days ago and ate it up! I loved that Rob Bowman and Daniel Sackheim were on it too, and you were always paying compliments to Rob's amazing directing at all of my favourite scenes. :)
Oh, and of course all the material on the Blu-Ray is great, but since Fight The Future is still my all-time favourite movie, that commentary is very precious. And while you are working on your projects, watching "Milagro" a few weeks ago had me ending up on YouTube searching for Frank interviews. I don't know where the video is now, but I found it very interesting to listen to what you talked about in Munich in 2013. I felt the room and the audience might have been not overly welcoming but your cross-cultural approach and concept of learing from each other was -as always- very endearing!
Take care, Ulrike
Thanks so much, Ulrike. Transporter is still filming in Prague, and it's going really well. I'm very excited for everyone to see the new season! I'd never been to Prague before, and I fell in love with the place immediately. The picture above, which I've used on my Twitter feed, was taken last week on location. Next stop, Toronto...